Specialty Equipment

Fluid Bed Dryer, 4'6" X 21' Long Bed

Getman A64 Scissor- Lift Truck
With Deutz F6L-912W Engine,
4-Stabilizer Jacks, FOPS Canopy,
6'X11' Platform

Double Screw Holoflite
16" Diameter X 16' Long Each
On Stand

Bird Decanter Centrifuge, 18" X 42" Bowl
With 30 HP, 230/460 Volt, 755 RPM Motor, Maximum RPM 2400

Alfa-Laval Decanter Centrifuge
Model (type): NX310 B31/4187/1
With 20 HP, 230/460 Volt, 1765 RPM, TEFC Motor

Micron Air classifier
Model: MS-1
With .75Kw Motor Thru V-Belt Drive, Maximum RPM 2300

Alpine Augsburg Air Classifier Approx. 6' Diameter
Type No. A1000 MPV1

Jeffrey Magnetic Drum Separator 21" Wide X 32"
Type S421
Electrics 250 Volt

Flex-Kleen Baghouse 15,000 CFM Dust Collector
Approx. 2,500 Square Ft Cloth Area


Baghouse 7,500 CFM Dust Collector
Model: 84-NF-100-C
1,000 Sq Ft


Baghouse 1,000 CFM Dust Collector
Model: 36KS
Approx. 300 Sq Ft


Advanced Detection Systems Metal Detector, 36" Wide X 12"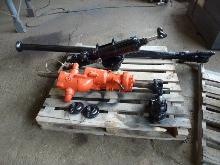 CP Diamond Core Drill
Pneumatic Driven, With Column, Rod Puller

Pionjar 120 Portable Gas Drill
With Steel, Wood Case

Reed/Lova Shotcrete Machines (2 Ea.)
With Spare NEW Hopper, Nozzles
Air Powered

Water Treatment Plant
By Clear Creek Systems
Model:IL3624-3AS


Denver 12" X 16" Duplex Jig
With Drive

Electrowinning Cells (5 Ea.)- SOLD
11'11 1/2" x 4'6 3/4" x 4'10 1/2"
Flow Rate 115 GPM
Without Rectifiers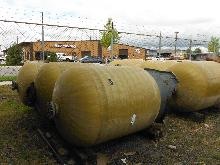 42" x 60" Fiberglass Carbon Columns (7ea)

Hitachi Mini Excavator- SOLD
Model:CX3OU
New Bucket Available

Bobcat Skid Steer- SOLD
Model:753
With New Tires, Diesel Engine

Ingersoll-Rand Air Track Drill
Model:CM2
With Pneumatic Drill


Reichert Spirals- SOLD
Bank of 8
Mark IIB Spiral Concentrators with Frame

Not finding what you need? Fill out our Product Request Form.

Choose a Product Category Below:

Agitators | Air Compressors and Generators | Air tanks | Blowers | Bullion
Continuous Miners | Conveyors | Cranes | Crushers | Cyclones | Dust Collectors
Fans | Feeders | Filters | Flotation Cells | Forklifts | Hoists | Jumbos
Lab Equipment | Loaders | Locomotives | Mills | Mine Vehicles | Mine/Rail Cars
Muckers | Pumps | Rock Breakers | Screens | Separators | Slushers & Buckets
Specialty Items | Thickeners | Underground Trucks

Copyright © 2010 Atlas Mine and Mill Supply Inc.
Quality Used Mining and Milling Equipment, Spokane WA
Questions? Email us at: sales@atlasminemillsupply.com

New paragraph